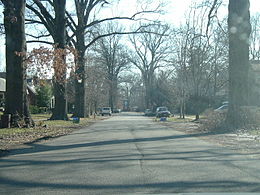 Located just minutes away from Louisville is the town of St. Matthews, a desirable location thanks to its streets with mature trees and wonderful architecture which includes Cape Cod style homes.
What's great about St. Matthews is that besides living in a town where you will have a real community around you, there are plenty of affordable homes for sale here which will fit in every home buyer's budget.
Median Home Price
In St. Matthews the median home price is just $205,000, and that's affordable, but what also makes this location the ideal town to relocate and or raise your family is that St. Matthews offers plenty of activities for families nearby including:
The paint spot

Cherokee park

Louisville Mega Cavern

Tin roof

Village 8 theatres
St. Matthews Demographics
With a population of 17,529 (2014 statistics) St. Matthews can still be considered to be a "small town" but big enough to have plenty of people to keep you company.
When compared to the rest of the United States St. Matthews has a cost of living, which is close to 5 percent lower than the U.S. Average, plus affordable home prices, you should consider relocating to St. Matthews.
Learn More about St. Matthews
To learn more about life in St Matthews 40207 Kentucky, including homes for sale in the area, contact Family Realty today by calling us at (502) 458-4100.